Brief introduction about America:
America is a constitutional republic federation of 50 states and a federal district. The capital is Washington DC is located between North America. US is bordering the Pacific Ocean in the West, the Atlantic Ocean in the East, Canada to the north and Mexico to the south. Alaska is in the northwest of the North American continent, bordered by Canada to the East. Hawaii is located in the Pacific. US territory has 14 or also known as the insular areas scattered in the Caribbean Sea and Pacific Ocean. New York is the nation's largest city.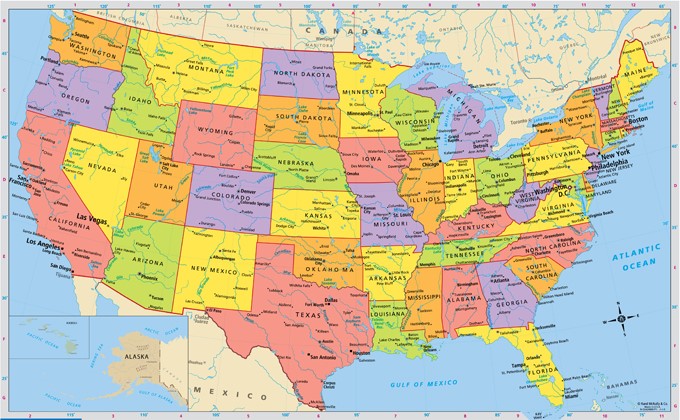 America's map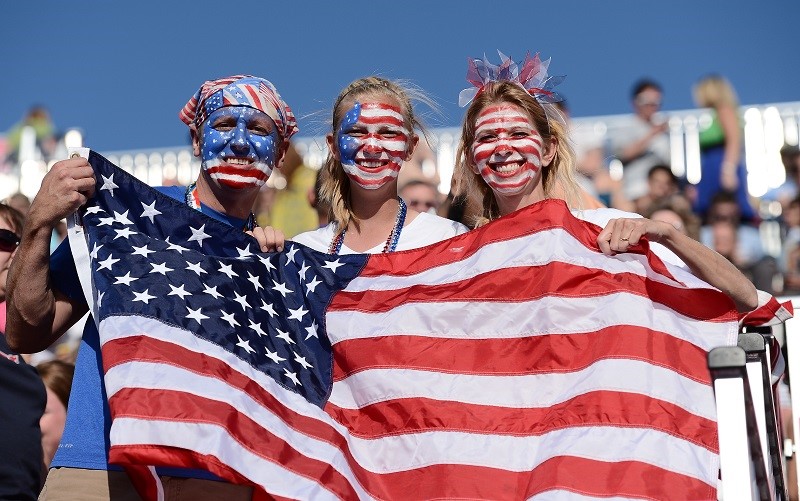 United States, an economic superpower, is known as a country of civilization and culture of mankind. The United States is among the countries where international students from around the world chosen as their destination. With a modern education, learning methods combining theory and practice, modern facilities, an ideal learning environment has helped the United States to attract a large number of international students every year.
Because the United States is a multicultural nation, multiracial, so when studying in the U.S, students will have many opportunities to meet and interact with students from around the world, understand more the culture of the country. Moreover, you will be studied in a multicultural environment. This will helps them practice their language skills as well as confidence, independence in life.
U.S Degree is recognized around the world. Therefore, when you graduate from the US, you will have more opportunities for employment in multinational corporations, large companies worldwide and can forward your qualifications to any one universities around the world if you want to continue their studies at the higher education level. It's one of the reasons parents and students choose the U.S as an ideal destination for their children's future.
About US:
Area: 9,629,047 Km2
Population: 297,285,435 people
Currencies: US Dollar (USD)
Official language: English
Key Capital: Washington D.C.
Major cities: New York, Los Angeles, Chicago, San Diego, Dallas, Detroit, Houston, Philadelphia.
 U.S Education System
| | |
| --- | --- |
| General Education | Higher Education |
| Primary: Grade 1-6 (6-12 years old)  | Associate: 2 years ( 18-20 years old ) |
|   | Bachelor:  4 years ( 20 -22 years old ) |
|   | Master: 2 years ( 23-25 years old ) |
|   | PhD: 4-6 years ( 25-28 years old ) |
 U.S Education System
Coming to the United States, international students will have plenty of choice and the opportunity to attend the famous course world among more than 4,000 universities and nearly 600 different majors. If you find that studying in the United States is right for you, then it's important that you take the time and effort to choose the right school to enroll.
Higher Education:
The goal of most students in college is to get a bachelor's degree. In the US, it will typically take 4 years for university and students have two options when pursuing a bachelor degree:
- The first choice is to start at a community college with a two-year transition program.
After completing the curriculum, you can apply to transfer to study the university system (college or university) four years and take another two years just to study at these schools.
- The 2nd option is a direct admission in a university.
 Postgraduate Education:
After graduating from an university, you can learn ti pressure on its graduate. In the United States there are more than 1,700 educational programs of masters and doctorate. Both programs are written is the combination between the research and the classroom. Unlike higher education, postgraduate programs train closer, deeper, toward specialized and requires more knowledge.
Normally, to get a Master's degree you will have to study for 2 years and if you want to have a Ph.D., they must learn 4 years.
The curriculum in the United States:
1. Secondary Program (Private School )

o Education: pretty and above average
o English: Satisfying the SAT or SLEP the school requested 
o The level of tuition: Average ranges from US$16,000- US$35,000 per year.
2. Community Colleges Program (2 years):
o Conditions: Students graduating from high school in VN
o Age: 18-22 Average for all states. (Particularly Washington only accept students from 16 years old).
o Education: Achieving average and above.
o Foreign language: A minimum TOEFL 500 (depending on the requirements of each school)
However, for those who do not meet the TOEFL/IELTS and weak English skills can participate in  English course at schools in the United States before entering into the main course. This is one of the advantages of the program. Students can study for 2 years at a community college for a degree college. After graduation, students can transfer to university if they want to continue their study to the University. Besides, if they wish to make the transition to university can transition into the school 3rd year and 4th year for a degree in higher education to get Bachelor Degree.
Nowadays, most Vietnamese parents' choose Community College as an option for their children because they believe in Community College,  their children can get acquainted with the learning environment in a foreign country, to help them feel more confident and integrated before entering the University auditorium.
Moreover,  tuition fees in Community College is approximately US$5,000-US$11,000/year. Moreover, when students choose to study at Community College are also helping them save some costly than direct entry in the US higher education. Because the cost for the first 2 years at community college is lower than 2 years at university level. That is why most parents choose Community College as a first step to living and learning process of their children in the United States.
3. Dual program (grades 12 and Community College):
Eligibility: Students in grade 11 who wish to study high school level (study 12) to retrieve the American baccalaureate.
Education: pretty and above average
English: comunicative level
In the case of urban students weak in English, the children can participate in English courses which require schools before joining the formal curriculum.
Note: This program is only available in a few states: California, Washington.
Advantages of the program: With this program, students will study the high school program combines learning just some college credits to transfer to the University last year to learn more 2 degree University in the same time and the same amount of cost. In two years, students can earn two degrees simultaneously: baccalaureate and some credits of college education level. This road will save time and their costs compared to other normal program.
Eligibility: Students must complete a minimum TOEFL550.
If you do not enough capacity,  can participate in Preparation program (1 year) at the school before joining the University program.
5. Master Degree
Eligibility: Bachelor Degree + TOEFL (depending on the school) +  GRE/GMAT score + Work Experience.
The enrollment season in years:
1. Spring: February-March
2. Summer: June-July
3. Fall:  August to September
4. Winter: December - January
 6. Tuition fees in America:
 Secondary public: about US$11,500 - US$19,000/year
 Private Schools: approximately US$34,000- US$45,000/year (including the cost of boarding)
 Diploma Programme (Community College) (2 years): in range from US$15,000 - US$18,000/year
 University Programs (4 years): about US 16,000 - US$35,000/year.
 The Masters (2 years): ranged from US$21,000 - US$30,000/year
  Living costs in the US: about US$ 800 - US$1,200/month
Note: The cost of living can vary depending on the state of the student will be studying and depend on spending  individual needs..